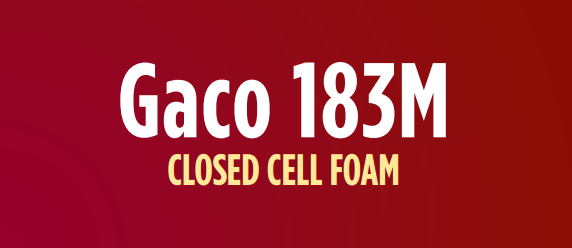 As building codes continue to become more stringent, and states and localities continue to adopt codes requiring increased energy efficiency and low emissions, Gaco 183M provides a multifunctional solution to the rising cost of building materials required to meet today's demand for high-performance buildings. Not only does Gaco 183M offer the exceptional all-around performance that spray foam applicators demand, architects and specifiers will appreciate its design flexibility and sustainable contribution to healthy building interiors, along with the energy efficiency and occupant comfort that owners desire.
An air barrier system stops the uncontrolled flow of air into and out of the building envelope, thereby reducing moisture problems, building heating and cooling costs, and greenhouse gas production; it improves indoor air quality, acoustical isolation and the indoor environment; overall, an air barrier system results in sustainable, durable buildings. As an ABAA Evaluated Material as part of an ABAA Evaluated Assembly, Gaco 183M Closed Cell Foam is approved for use in air barrier systems.
Gaco 183M is a Class A (Class 1) fire rated foam and is safe to the environment. It meets the requirements of Appendix X for use in attic and crawl spaces without an additional ignition barrier.
Benefits
SPRAYABILITY. Superior formulation provides a consistent, user friendly foam with predictable yields.
LOWER VISCOSITY. Reduces wear and tear on equipment with less clogging of guns.
LOWER SPRAY TEMPERATURE. Easier on equipment and more comfortable to apply.
LOWER ODOR. Reduces odor in application, improving work environment.
LOWER COST. No addition ignition barrier needed, saving time and money.
WINTER AND SUMMER FORMULATIONS. Allows you to expand your spray window in colder temperatures.
ENERGY EFFICIENT. Seamless air barrier reduces uncontrolled air leakage, lowering energy costs for building owner and homeowner.
HEALTHY. Reduces condensation, moisture and mold, improving occupant comfort, health and safety.
QUIET. Acts as a sound barrier to help block airborne noises.
RESPONSIBLE. Higher aged R-values than conventional insulation. Reduces energy consumption, and contains no ozone-depleting chemicals. Earn up to 20 LEED credits.
TESTED. ABAA Evaluated and GreenGuard certified.
Project Data
Brochure-Gaco 183M
Specification-7 21 19 / Gaco 183M Closed Cell Spray Polyurethane Foam Insulation
Specification-7 27 03 / Gaco 183M Closed Cell Spray Polyurethane Foam – ABAA Air Barrier Assembly
PDS-F183M Gaco 183M
Evaluation Report-Gaco 183M Closed Cell Foam (CCRR-1002)
Evaluation Report-Gaco 183M Closed Cell Foam (ABAA Evaluated Air Barrier Material)
Gaco 183M Closed Cell Foam – Cavity Insulation with ISO Board sheathing (ATLAS UL Evaluation Report ULER 13089-01)
Spray Guide-Gaco 183M Closed Cell Foam
LEED-Gaco 183M
Installed Insulation Certificate
Manufacturer's Certification Statement
GacoWallFoam Limited Warranty
Safety Data Sheet
Ignition Barriers and Thermal Barrier in Attics
Guidance on Best Practices for the Installation of Spray Polyurethane Foam